Civil War Reenactors Information
Fort Ward Museum and Historic Site enlists the talents and knowledge of reenactors to offer numerous living history programs interpreting Civil War soldier and civilian life. Here are the resources you need to participate in an event.
Page updated on
February 10, 2022 at 8:20 PM
Introduction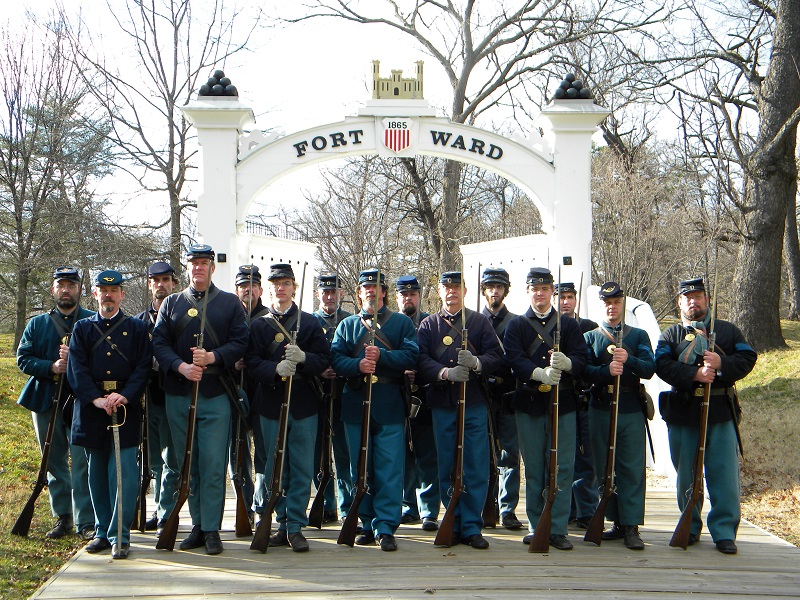 Fort Ward welcomes military and civilian interpreters and sutlers, and seeks new ideas for living history programs. Please provide your unit contact information and interpretive ideas to Fort Ward Museum. For details on guidelines and logistics, please click on the sections below and then contact Fort Ward Museum & Historic Site.
Programs contribute to the public's understanding of the period and enhance the Museum's educational mission. Fort Ward welcomes both Union and Confederate groups. Fort Ward's largest living history program is Civil War Camp Day, but smaller presentations are staged throughout the year.
See a printable map of the Historic Site.
Military and Civilian Interpretations have featured:
infantry drills
artillery demonstrations
camp life
signal corps demonstrations
naval history
first person impressions (army surgeons, laundresses, engineers, photographers, relief workers, Civil War Santa Claus, Walt Whitman, Clara Barton)
torchlight tours
soldier-led walking tours of the fort
participation in Civil War Kids' Camp programming
holiday observances
Guidelines and Logistics
Participant Release Form
All participants and parents of participants assume all risks for themselves and their minor children by signing this general release of liability. Each reenactor and sutler must sign this form prior to participation in events at Fort Ward Museum and Historic Site.
Amenities
The following amenities are available to reenactors.
Restrooms and water: There are two restroom buildings located in Fort Ward Park. The building directly behind the Museum is open all year, the restrooms located near the amphitheater are closed during the cold weather months. Public restrooms are also available in the Museum during operating hours. Water for camp life activities can be obtained from a hose connection at the Museum building and designated hose bibs within the park. Please check with Museum staff for access.
Firewood: Firewood will be provided by the Museum for camp life activities and for pre-approved overnight camping by reenactors and sutlers. One camp fire per unit is allowed. Pits should be dug by carefully rolling sod aside so that it can be replaced once the fire is doused. Units are responsible for extinguishing fires and cleaning up the camp fire area. Fires should not be left unattended.
Straw: In the event of extremely wet or muddy conditions, Fort Ward staff may provide bales of straw to reenactors for safety considerations and to protect the turf.
Trash disposal: Trash receptacles are located throughout the Park. Units are responsible for policing their camp areas, and for removing spent cartridges, cartridge papers and other debris.
Food and beverages: There are no vending machines at Fort Ward and no on-site food services. At some of the larger events, local service organizations or the Friends of Fort Ward sell beverages such as bottled water, lemonade, soft drinks, and juice. For casual dining off the premises, there are three shopping centers within a mile of Fort Ward that offer fast-food options, cafes, specialty coffee and pastries, and family-style dining. There are also two grocery stores at the nearby Bradlee Shopping Center.
Weapons Regulations
Fort Ward Museum and Historic Site has established standards necessary to protect visitors, interpreters and staff when weapons are being used during an interpretive program. Unit commanders will be held accountable for their memberships' compliance with these standards.
Weapons
Unit commanders must select a safety officer for their unit who will be responsible for weapons inspection, enforcing safety practices and reporting to Fort Ward staff on safety issues.
An individual who brings a weapon onto the park site is responsible for maintaining the security and safe usage of the weapon at all times. At no time will the weapon be left unattended or handled by visitors.
No one under the age of 18 will be allowed to fire a weapon.
Weapons may be loaded and discharged only during approved drills and/or demonstrations with the unit safety officer's presence and approval. No weapon will be fired any time anyone is in the field of fire. No weapon will be loaded or fired in the camp area or any other unapproved site in the park.
An immediate cease fire and halt will be called when anyone is in, or moves in, close proximity to the field of fire or demonstration to create an unsafe situation. No weapon will be fired until the situation is resolved.
Edged weapons and bayonets are to be drawn only for formation and approved drills. Rifle stacks will not be left unattended.
As an agency of the City of Alexandria, Fort Ward will not accept responsibility for the loss or damage of any weapons or equipment used in a living history program, or the personal safety of reenactors involved in the handling and discharge of weapons.
Demonstrations
The unit safety officer will inspect all weapons, ammunition and accouterment at the beginning of the day and directly prior to a demonstration. Only reproduction black powder weapons will be used in a firing demonstration.
A safe distance or barrier will be maintained between reenactors and visitors during all weapons firing demonstrations and/or demonstrations of drill with fixed bayonets. Demonstrations will be conducted only in an area designated by Fort Ward staff.
Ammunition
Black powder will be carried securely in pre-rolled paper cartridges.
Only blank paper cartridges, made properly and neatly, and which do not exceed the maximum of 60 grains f.f.g., will be accepted. The use of newspaper, staples and other unsafe materials is prohibited.
Loose powder, live ammunition or fireworks are not allowed in the park.
Sutlers Regulations and Licensing
Sutlers wishing to participate in Living History programs at Fort Ward must comply with the following regulations. Sutlers must submit a Sutler Registration Form along with their Participant Release Form.
Sutler Regulations
Sutler participation at Fort Ward Museum-sponsored events is by previous arrangement only. Sutlers who show up the day of the event who have not pre-registered will be turned away.
As participants in an official Museum education program, sutlers will not be required to obtain separate business licenses. All other retail regulations, such as collecting sales tax, apply and are the responsibility of the vendor.
Fort Ward Museum charges a sutler participation fee of $50.00, which can be waived if combined with an educational activity. Please contact the Museum staff for more information.
All clothing and accouterments, tables and displays must be of the Civil War period. Only period goods or authentic reproduction items of the Civil War period may be exhibited and sold. Food or beverage products in modern packaging cannot be sold within the historic area by sutlers. All modern items (coolers, soda bottles, cans, cell phones, plastic items) must be kept out of sight at all times.
In compliance with City of Alexandria and Commonwealth of Virginia health department regulations, sale of any non pre-packaged foods and beverages is prohibited.
Fort Ward Museum staff will assign sutler locations.
There is a one hour time limit for loading and unloading vehicles prior to and after the event. No vehicles will be allowed in Sutler's Row after the start of the event.
All persons must be dressed in period attire. Children must be supervised at all times.
No pets are allowed.
Fort Ward Museum and its staff and volunteers are not responsible for any losses incurred through theft, accident or inclement weather. It is recommended that sutler tents or set-ups be attended to at all times.
Sutlers may camp overnight at Fort Ward only at the discretion of the staff and must follow the same regulations for overnight stays as reenactors.