Historic Firefighting Vehicles
The Rodgers Suction Engine (1851) and the Prettyman Hose Carriage (1858) illuminate the history of firefighting in Alexandria. Learn about the vehicles and their ongoing conservation.
Page updated on
August 5, 2022 at 10:58 AM
Alexandria's Historic Fire-Fighting Vehicles
For at least the first century of Alexandria's existence, most residents lived in wooden buildings in which open flames provided heat, light and cooking, and fire was a constant danger. Water to fight a fire had to be carried in buckets from a nearby well, a town pump up the block, or drawn directly from the Potomac River or Hunting Creek. The first fire engines were a great improvement in fire-fighting technology, allowing water to be sprayed into a building or onto its roof, preventing it from spreading to the buildings next door. They were not very powerful, however, and together with hose reels and other equipment, had to be pulled by hand to the fire and operated by volunteers.
The Suction Engine
Built by John Rodgers, Baltimore, Maryland, 1851
The earliest fire engines were basically pumps on wheels, enabling firefighters to spray water a further distance onto the blaze. "Bucket brigades" would form as two lines of people passed filled buckets from a source of water (river, creek, pond or well) to a fire engine, and then passed the empty ones from the engine back to the water source.  Suction engines, invented in the early 19th century, drew their own water through a hose, and provided a more powerful and constant stream. Without the need for a bucket brigade, fewer men could fight a fire with this type of engine.  Suction engines could also be hooked up to one another, pumping water from a distance.
By 1850, few fire engine makers could match the skill and reputation of John Rodgers in Baltimore, so it was natural that Friendship's members went to him for their new fire apparatus in 1851. The new Rodgers suction engine threw water 155 feet when it was first tested in November, with over a dozen men working the "brakes," the curved iron arms that powered the internal pump. Hard use for the next thirty years meant that the engine was repainted and repaired many times, until it was finally retired from active service in the late 19th century.
Today, the Rodgers Suction Engine remains the "flagship" of the Friendship Firehouse Museum's vehicle collection. From a distance, it looks pretty sound, but closer inspection reveals a different story. Cracked and peeling paint, split wood, minor damage and bad repairs, and many layers of a variety of colors all hide the original craftsmanship and beauty of this vehicle. A full conservation treatment, including a careful and thorough documentation of ALL paint and other finish surfaces, will preserve what remains of its' original 1851 appearance.
Learn more about the pumper: 
The Hose Carriage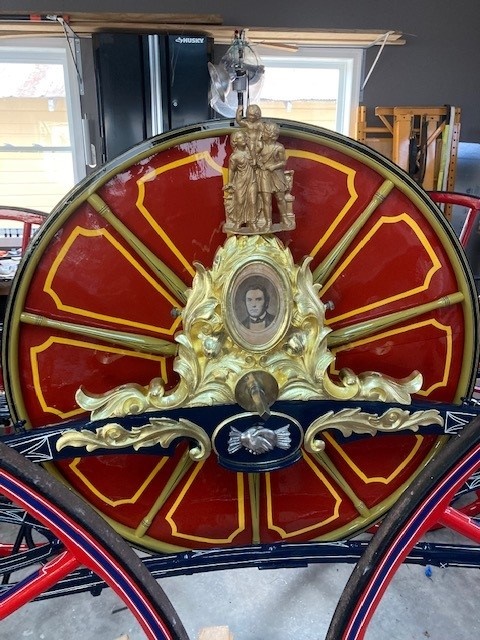 Built by Robert F. Prettyman, Alexandria, Virginia, 1858 
Getting a fire engine to a fire was one thing . . . ensuring that it had a steady water supply was something else. In Alexandria, fires along the waterfront could be controlled with water drawn straight from the Potomac River, but fires further into town needed water from wells or cisterns. After 1810, public wells began to appear on street corners in Alexandria, and the Alexandria Water Company piped water from Shuter's Hill beginning in 1852. Connecting "suction" fire engines (which drew water as they sprayed it) to this steady source required hoses, which gradually replaced bucket brigades during the early 19th century. The first hoses were typically made in 50-foot lengths, and only a few pieces could be carried on the fire engine itself, so additional vehicles were created specifically to carry extra lengths of hose.    
Friendship purchased a hose-reel carriage in 1858 from coachmaker and Friendship member Robert F. Prettyman. It was fitted with two large bells to sound the alarm as the vehicle bounced through Alexandria's streets, as well as "a large lamp of stained glass with the date of the organization 1774 cut in the glass, over which stands a miniature fireman in full dress."  The total cost of the vehicle was $550. 
Thanks to fundraising efforts led by the Friendship Veterans Fire Engine Association, the Prettyman hose carriage underwent much needed conservation conservation, returning to Friendship Firehouse in 2022. The conservation plan called for a complete documentation of all paint layers on each component, saving the traces of original finish that remain, and replicating missing pieces.
The conservation and restoration was possible thanks to contributions from museum visitors and the following donors. Thank you!
Conservation Needs

The vehicles and exhibits at Friendship Firehouse Museum illuminate the history of firefighting in Alexandria. Years of hard use took their toll on the suction hand engine and hose-reel carriage, but when they are fully conserved, the apparatus' paint history will be stabilized and preserved for future generations to enjoy.  
Conservation on the Prettyman Hose Carriage is now complete. Now, help us preserve the Friendship Fire Company's Rodgers Suction Hand Engine, built in 1851.
Restoring Friendship Firehouse
Friendship Firehouse was built in 1855, was substantially remodeled in 1871, and was then restored by the City of Alexandria in 1992, following its gift to the City by the Friendship Veterans Fire Engine Association. Since that time, City staff have examined, documented, and interpreted Friendship's artifact collection, providing professional care for the building, vehicles, and dozens of other items. In 2009, the cupola and roof of the firehouse received a thorough restoration, complete with historic paint analysis to determine its original appearance.
Volunteer Fire Companies
The Friendship Fire Company was established in 1774, as the first such organization in Alexandria. Their first "fire engine" and other equipment were stored in a shed on Market Square, right in the middle of town. As Alexandria grew into a city, other fire companies formed and Friendship moved to a new firehouse on Alfred Street; this building still stands today as the Friendship Firehouse Museum. Volunteer fire companies served the community faithfully for decades, particularly during enormous blazes in 1827. 1855, 1871 and 1922. As building height increased, the equipment with which to fight fires got more expensive and complicated, and it was difficult for small volunteer companies to pay for new technology. By the early 20th century, the old volunteer companies in Alexandria and many other places were being replaced by paid professional fire departments.
Friendship Veterans Fire Engine Association (FVFEA)
The Friendship Veterans Fire Engine Association (FVFEA) is the modern-day version of the old Friendship Fire Company membership, and serves as the museum's friends group today. FVFEA's dedicated members are leading the fundraising effort to support all preservation and interpretive efforts in the museum.
How You Can Donate
The Friendship Veterans Fire Engine Association is leading the effort to restore the Rodgers suction hand engine. The goal is to preserve the equipment so current and future generations can see how early firefighting operations were conducted, and how fire apparatus has evolved from the 19th century.