Master Plan: Freedom House Museum
The Master Plan is the next step in the stewardship of the Freedom House Museum at 1315 Duke Street.
Page updated on
April 20, 2023 at 4:22 PM
Master Plan: Freedom House Museum at 1315 Duke Street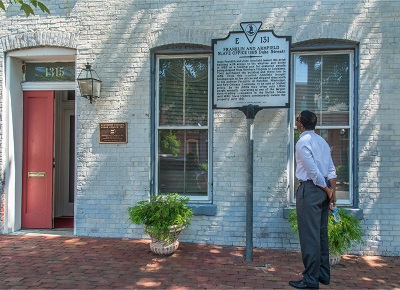 The Freedom House Museum at 1315 Duke Street is housed in what remains of a large complex devoted to trafficking thousands of Black men, women, and children from 1828 - 1861. In partnership with the Urban League of Northern Virginia, OHA assisted with operations of the Museum starting in February 2018 and purchased the building in 2020. In May 2022, the Museum reopened to the public with three floors of temporary exhibits. The next important step for this historic building is creating a Master Plan.
Stakeholder Survey
Your Voice is Needed! Help Historic Alexandria tell the accurate and true history of African American life in Virginia. Make history with us and become part of the Community Engagement process. All voices respected and heard.
Project Background
The Office of Historic Alexandria is engaging with the community and stakeholders to create the Master Plan for the Freedom House Museum at 1315 Duke Street. The Master Plan will provide a road map for the future use, interpretation, and preservation of the site.  Through a series of public meetings, we hope to engage in a dialogue about the site's mission, potential name change, interpretive focus, and role in the community. The intent is to have the stories told at 1315 Duke Street complement those told at the Alexandria Black History Museum and across historic sites in Alexandra.
Project Consultants
SmithGroup – Lead: Project Management/Architecture
SmithGroup is one of the largest architecture, engineering, and planning firms in the U.S. With a staff of 1,300, it specializes in the healthcare, higher education, science & technology, and workplace sectors. Their integrated practice offers depth in all disciplines serving the built and natural environment, including architecture, engineering (civil, structural, mechanical, electrical and plumbing), landscape architecture, urban design and environmental science. SmithGroup completed the Freedom House Museum's Historic Structures report in 2021.
www.smithgroup.com 
Proun Design – Exhibit Design
Proun Design is a Boston-based design firm specializing in interpretive exhibits. They strive to create exhibits that attract, engage, and educate. To that end, projects blend 3D exhibits, objects, graphics, and media within the given space to create an integrated interpretive experience. They utilize the power of the object, the power of the image, the power of the voice, the power of place, and the power of the unexpected to draw visitors with varied interest levels into the story—to pique curiosity, challenge preconceived ideas, and provoke thought. 
www.proundesign.com
Brocade Studio – Story Telling/Content & Exhibit Developer
Brocade Studio collaborates with purpose-driven organizations, using creative facilitation, strategy, analytics, and interpretative planning to address problems that matter.
www.brocade.studio
Silman – Structural Engineer
Silman's engineers approach renovation with creativity and elegance. Silman will serve as the team structural engineer to advise on key structural issues should the Interpretive Master Plan require impact on the existing building.  
www.silman.com/ 
Cummings – Cost Estimating
Cumming provides cost estimates for Master Plan recommendations reflective of rough order of magnitude for phasing priorities.
cumming-group.com/ 
Timeline and Project Updates
March 2023: The first stakeholder meetings were held March 6, 2023 from 5-8 p.m. & March 7 from 1-4 p.m. at the Shiloh Baptist Church.
October 2022: Project Kick-Off meeting was held. 
October 2022: Contract awarded to SmithGroup to initiate Master Plan. 
May 2022: Freedom House Museum at 1315 Duke Street reopened with three new temporary exhibits. 
October 2021: The Historic Structures Report was completed by SmithGroup. 
March 2020: City of Alexandria purchased 1315 Duke Street from the Urban League of Northern Virginia. 
February 2018: Office of Historic Alexandria partnered with Urban League of Northern Virginia to manage Freedom House Museum operations.