School Programs at Gadsby's Tavern Museum
What student doesn't relate to eating, sleeping, and having fun? Gadsby's Tavern Museum uses its two tavern buildings to explore daily life, travel, business, and entertainment in 18th-century Virginia. Our tours are designed to help students relate to the past through hands-on opportunities and primary resources while learning how life was (and wasn't!) different in Early America.
Page updated on
January 25, 2023 at 10:05 AM
School Programs at Gadsby's Tavern Museum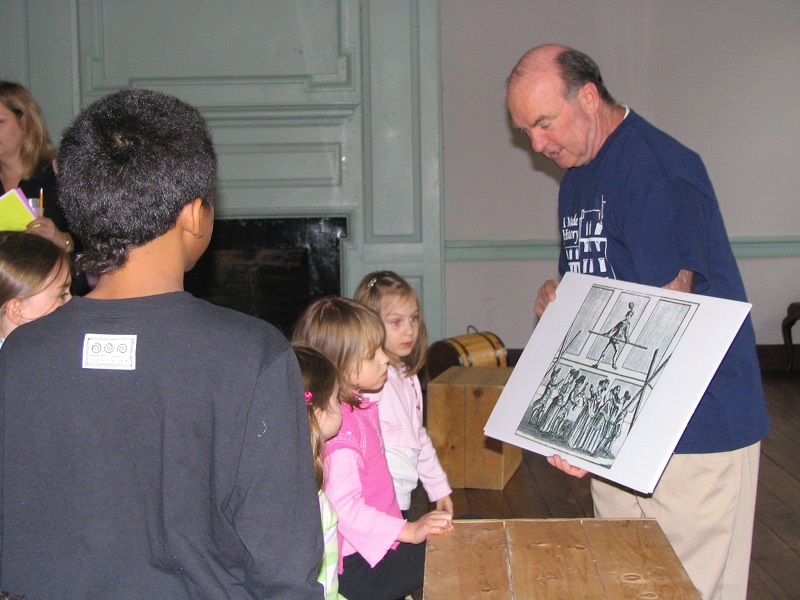 We work with each teacher to ensure the field trip fits his or her class and curriculum. The following is a list of frequently requested programs, but programs can be adjusted to meet your specific needs. Please feel free to contact the Curator of Education to discuss what we can do for you and your students.
School Programs Themes
Traveling Tom (Grades K - 2 only)
Students discover what it was like to travel in the 18th century and to spend the night at a tavern by comparing life in the past to life today. They examine hands-on objects, interpret period maps, tour the tavern, and participate in a dress-up activity. (SOL: K.1 a, b; K.2; K.4 a, b, c; K.5 a, b, c; K.7 b). 
A Tavern at Work (Grades 2 and up)
From the establishment of Alexandria on the Potomac River to the types of food people ate at taverns, topics on this tour are sure to capture the imagination of your students. Program includes primary source documents, hands-on objects, and a dress-up activity. (SOL: VS.1 a, e, i; VS.2 c; US1.1 a, b, e, f). 
Candas, the Tavern Slave (Grades 3 and up)
Students learn about slavery in Virginia and get a glimpse into the lives of the enslaved African Americans who worked at the tavern. Program includes interactive discussion, tavern tour, and a game of charades with "hands-on" objects from the 18th century. (SOL: VS.1 a, e, f, i; VS.2 c; VS.4 c; US1.5 c; US1.8 d).
Scheduling a Program
To schedule a visit, contact the Curator of Education. Please note the following when scheduling a school program:
Reservations are required. 
Length of program: Each program is one hour long
Maximum Group Size per program: 30 students
Cost: Lessons are free to Alexandria City Public School groups, and $3 per person ($40 minimum) for all other groups.
Minimum of two adult chaperones required per time slot; up to 5 adults admitted free per time slot; additional adults $3 each
Accessibility: Please notify us of any special needs so we can best accommodate all of your students. Gadsby's Tavern Museum welcomes all students and can create the best, most inclusive experience if notified in advance. The museum does not have handicap access to the second floor, but will work closely with visiting teachers to make the program as accessible as possible to all visiting students.
Visiting Multiple Sites
Have a group of 30 or more or want to see more than one site while in Historic Alexandria? The Office of Historic Alexandria's Education Coordinator makes it easy by scheduling the programs for you. Visit Scheduling an Education Program with Historic Alexandria for more information about this great opportunity.
Logistics for your Visit
Where to Park
Cars
Groups arriving by car should include time for parking in their schedule. There is metered street and garage parking available near Gadsby's Tavern Museum. Please be aware that parking regulations are strictly enforced.
Buses
School and tour buses must use designated loading/unloading and parking areas in Historic Alexandria. For Gadsby's Tavern Museum, there is a loading/unloading zone directly in front of the museum. Parking is allowed in this area for only as long as it takes to actually load or unload the bus.
Due to the sensitivity of our historic buildings, bus engines must be turned off when parked, not idled, and buses must park in designated areas. 
All buses are required to register in advance to park in the designated areas. Teachers should reserve space for each bus travelling to Old Town. To make your reservation, you will need to create a user log-in and follow the prompts at the City's Motorcoach website. Reservations are free.
Restroom and Water Fountain Facilities
Gadsby's Tavern Museum does not have restroom and water fountain facilities for school groups. Public restrooms and water fountains are available in City Hall directly across the street.
Lunch Facilities
Groups must arrange lunch and/or snack plans in advance with the Education Coordinator.
Lunch Facilities
Group Lunch Facilities
Reservations Required 
No Reservations Required
Outdoor Spaces
Carlyle House garden
Fort Ward Park
Market Square
Founder's Park
The Torpedo Factory Dock
The Lyceum's side entrance
Indoor Spaces
The Lyceum's lecture hall
George Washington Masonic National Memorial
 
Educational Outreach Kits
Can't visit us? Then bring the Tavern to you! Rent our Tavern in a Trunk for grades K-8 or Playing the Past, the Museum's 18th-century ball kit. 
See rental information about these Educational Outreach Kits.
Tavern in a Trunk
Want to bring objects, primary source documents, and images into your classroom?  The Tavern in a Trunk is designed to bring all of this and more directly to the students.  Use the lessons and objects to augment your studies of 18th-century America and bring the text book to life for your students! Working from primary sources, including maps, diary entries and early newspaper ads, students discover what life was like in the 18th century and explore the important role a tavern played in society. The hands-on clothing, objects, and games work well in the classroom and for Colonial Days.
Playing the past
Recreating an 18th-century ball is a fun way to learn about 18th-century life by doing!  This binder walks your classroom or Girl Scout troop through all of the steps, from researching a character to making clothes to recipes, games, and dances for the big event.  A great way to bring together what your students have been learning during their Colonial unit!  It also contains connections to Daisy, Brownie, and Junior Girl Scout badges.
 Interested in more educational resources offered by Historic Alexandria? Visit our main educational resources page for online activities, videos, and more.