Special Tours of Gadsby's Tavern Museum Led by Junior Docents
Students Grades 3-8 share history of Taverns and Chocolate!
Page updated on
September 5, 2022 at 11:00 AM
Special Tours Led by Junior Docents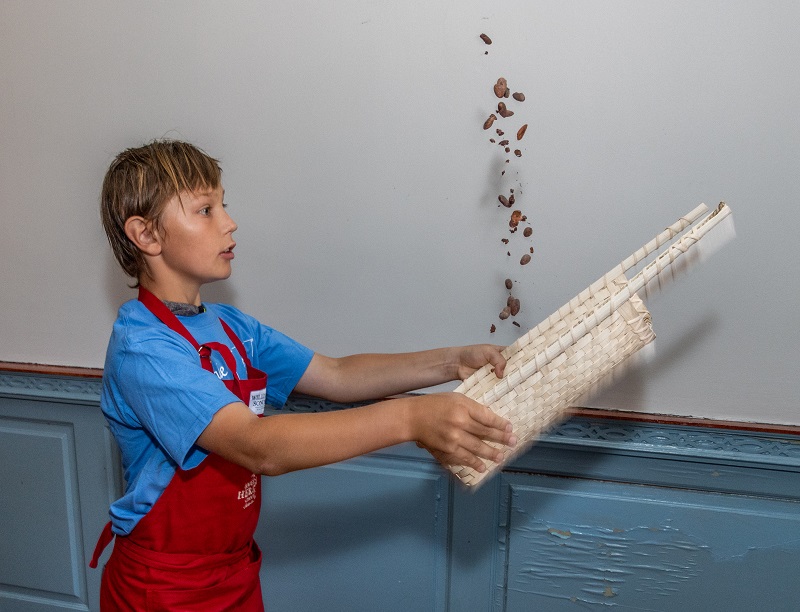 Gadsby's Tavern Museum's Junior Docent Program is back with an exciting new offering this summer thanks to AMERICAN HERITAGE® Chocolate! Every Sunday, June 19 through Labor Day weekend, from 2-5 p.m. guests can meet Junior Docents who will be stationed throughout the tavern. They will be sharing the history of the early America and the tavern, but also the history of chocolate! This includes a hands-on demonstration of historic chocolate making in the Ballroom. Visitors from past years have found the students' unique perspective and enthusiasm for history an "exciting treat" that brings a "fun element" to the tour.   
Regular admission is charged; City of Alexandria Residents are free.
About Gadsby's Tavern Museum
As America began as a nation during the late 18th century and emerged in the 19th century, Gadsby's Tavern was the center of social and political life in Alexandria as well as the new Federal City of Washington. The tavern served as the premier gathering place for residents – including George Washington – and visitors to eat, drink, learn, and influence history.  Tavern keepers John Wise and John Gadsby hosted balls, performances, and meetings, and their accommodations were known as the best by travelers near and far. Gadsby's Tavern Museum is located at 134 North Royal Street in the heart of Old Town Alexandria and is owned and operated by the City of Alexandria. For more information, please call 703.746.4242 or visit www.gadsbystavern.org.
About AMERICAN HERITAGE® Chocolate
The AMERICAN HERITAGE Chocolate brand was developed in 2006 by Mars Wrigley to help educate consumers about the history of our multicultural nation through the engaging story of one of our most beloved foods…chocolate!  With a flavor profile drawn directly from the archives of chocolate's historic past, AMERICAN HERITAGE Chocolate provides an artisanal, versatile way to eat, bake or drink a sweet taste of history. Rainforest Alliance Certified™ and made with no preservatives, AMERICAN HERITAGE Chocolate currently comes in four formats: Tasting Squares, Tablet Bars, Grated Chocolate for baking/drinking and Gourmet Hot Cocoa. AMERICAN HERITAGE Chocolate is sold in over 50 fine gift shops at historic sites, museums and historic inns across the USA and Canada. The brand can also be found on Amazon.com, at M&M's World in New York City and Las Vegas, and at the Ethel M chocolate store in Henderson, Nevada.