Watson Reading Room
Located next door to the Alexandria Black History Museum, the Watson Reading Room is a non-circulating research repository focusing on issues of African American history and culture.
Page updated on
November 6, 2023 at 8:59 AM
Visiting the Reading Room
The Watson Reading Room currently has over 4,000 holdings documenting African American history. Books, periodicals, dissertations, and theses are accessible by patrons. This library is a non-circulating facility.
Black History Museum staff and volunteers will be available (by appointment) to work with visitors of all ages who are researching African American history. Call 703.746.4356 for an appointment.
People wanting to donate books to the Watson Reading Room must contact the Director prior to bringing them to the museum.
The Reading Room is part of the African American History Division. This division, formed in 2023, will ensure the continued inclusion of Black History in City museums and public programming, as well as advancing the City's goal of building a welcoming community through equity and inclusion.
The Reading Room may be rented for meetings and small lectures.
History of the Reading Room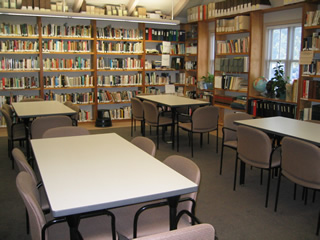 The Watson Reading Room is named in honor of Charles and Laura Watson, early African American landowners in Alexandria. In 1874, Laura Watson and her sons established the Sunnyside community on land bequeathed to her by her husband. Sunnyside, located in the area of West Glebe Road and Mount Vernon Avenue, flourished as an African American housing development.
In 1992, following the wishes of Sunnyside residents, funds from the Development's Ownership Assistance Program were used to pay for construction of the Watson Reading Room. The site selected for the reading room, next to the Alexandria Black History Museum, was rich in history for Alexandria's African American citizens. Buildings that formerly stood on the 906 Wythe Street address had been a church, school, and a store during segregation.
Officially opened in June of 1995, the Watson Reading Room offers a growing collection of books and periodicals on African American history to visitors, thus fulfilling the wishes of Sunnyside residents for a facility that would educate all Alexandrians about the contributions of African Americans.
Oral Traditions
The Alexandria Oral History Center is a community-driven collaboration to document and preserve the memories and stories of Alexandria. Transcripts of some of the oral history interviews are available online for use by the public, and provide insight into the life of Alexandria's African American community.
The oral history tradition played an important role in the African American community. Oral history was used to document family ties and spread news for enslaved families.
To help children understand the value of oral traditions, the Watson Reading Room and the Alexandria Library host "Storytime for Little Historians." Since 2018, this program has used books written by and about African American people and other communities of color to educate and inspire our youngest visitors.