Share Your Story
Learn more about the oral history recording process and how to schedule an oral history appointment.
Page updated on
February 1, 2023 at 4:16 PM
Set up an Appointment, or Suggest Someone For An Oral History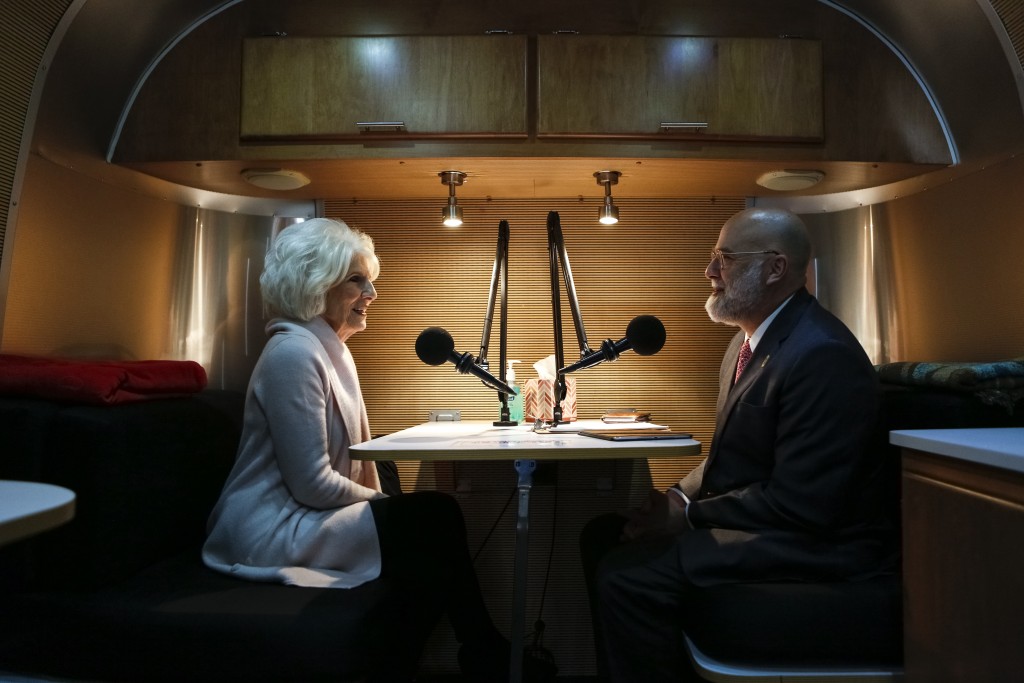 The Alexandria Oral History Center is committed to documenting and preserving the memories and stories of Alexandria. We are honored to record your oral history.
Before setting-up an appointment or suggesting someone for an oral history recording, we ask that interested participants fill out this survey. Once you complete this survey, one of our staff oral historians will reach out to you, or the person you suggested to schedule an appointment and explain our process.
What is an Oral History?
Oral histories record and therefore, preserve memories, reflections, and thoughts of living people about their past experiences. According to the Oral History Association, a membership organization for all persons interested in oral history, "Oral history is both the oldest type of historical inquiry, predating the written word, and one of the most modern, initiated with tape recorders in the 1940s and now using 21st-century digital technologies."
An oral history differs from a personal written history in several ways. Oral history should always consist of two source materials – an audio recording of an interview and a transcript of that recording. The audio recording can be recorded on cassette, or in a digital format. Both source materials - the recording and transcript – are important because each contribute to the historical record and can do so mutually, as well as independently. The transcript can be easily read and used by both researchers and family members. The audio recording contains emotions and accent, neither of which can be captured in a written document, but both of which are important aspects of the interviewee's persona and the associated words and stories.
Oral history also differs from a personal history because it always involves two authors – the person being interviewed and the interviewer. The questions asked by the interviewer guide the focus of the oral history. Oral history projects might, for example, focus on interviewing former Torpedo Factory workers to find out what working in the factory was like, or they might focus on people's memories of particular events such as Pearl Harbor or desegregation.
What to Expect?
The Center's oral history process consists of three aspects: 1. The Pre-Interview, 2. The Interview, and 3. The Post-interview.
For the pre-interview, one of the Center's oral historians will contact you to set-up a time to meet in-person and/or virtually to introduce themselves, explain the oral history process, and work with you to brainstorm memories and stories that you would like to share in your oral history recording. This is a great time for you to ask any questions about the oral history process and/or express any concerns.
For the interview, recordings are typically 40 minutes to an hour long, however, it can run as little or as long as you would like. The role of the oral historian is to listen and support you, as you share your memories. This means that they will be asking you questions, and they will ensure that the interview is recorded and preserved at the highest standard.
Following the interview, you will need to sign a release form for your interview. Our release form provides you with complete control over how the Alexandria Oral History Center and the Office of Historic Alexandria can use your story. You can decide whether you are comfortable with us preserving your oral history in our public oral history archive and using it for non-profit educational purposes (podcasts, newsletters, exhibits, walking tours, etc.). Additionally, you can stipulate any other specific restrictions on how we can use your story in the future.
You will receive a transcription of your oral history, and a digital copy of your recording a couple of weeks later. We encourage you to review your transcript and provide notes about any parts of the interview that you would like to be omitted in the recording and transcript.